Request form
Get your free price estimate
Our services
Our customer-centric services
SM Services strives to transform moving and related activities into a smooth pleasant process, to deliver them as a full-service individual package, and to serve the main goal to build trust among valued customers!
_____
Furniture Assembly
Appliances Installation
Handyman Services
Don't have time to deal with those tricky instructions from IKEA? We will assemble furniture for you.
Our booking process
Booking is easy
Moving day process
What to expect on moving day ?
Our competitive advantage
Why choose SM Services?
Responding 24/7 and being ready to work at hours convenient for you.
Working on any projects of any scale if it is a half-hour or a multiple-day move.
Offering up to 5 various services as a single service package in a timely manner.
Charging a pre-estimated negotiated flat price. No deposit. No hidden fees.
Starting to work on emergency orders within an hour after a call.
Serving clients anywhere in Southern Ontario within 500 km range from London.
People about us
"I would definitely recommend SM Services. They arrived on time. they moved my daughter efficiently, they were courteous and professional. Do not hesitate to use them for your next move."
"The guys at SM Services are amazing and made my move possible! There were some hiccups for our move and they didn't hesitate to help us, relieved our stresses, and got the job done extremely well. Will be recommending them for all future moves! Thanks so much guys."
"I really appreciate your services. I called SM at the last hours due to a lack of man source in my home. How wonderful, SM helped me to take furniture from the seller, disassembled them and delivered to my apartment in a caring and thoughtful manner. I will definitely order from them next time."
"Very nice helpful men. Will definitely be using them again in the future"
Take the stress out of moving!
View our
mover's guide
Ask Us Anything
Frequently asked questions
Ask us anything about moving or check out our FAQ's below to find the answer you are looking for.
It is hard to believe, but home moving
costs significantly depend on you!
Moving companies
in London, ON vary by efficiency, quality, and price of services – it is true, but they usually quote their price according to the amount of time they are going to spend for moving. For example, when items are properly packed, the elevator is booked, and you know if items fit in doorways – it can save a lot of time for professional movers, so it will save you money; however, when you are not prepared for moving, saying, the elevator is not booked in your building and movers have to use stairs or wait for the elevator before each load – you are losing money.
How much do you tip movers?
Your moving day has finally ended, professional movers have completed their work, you got satisfied with their service to a certain extent and wish to thank people who have worked for you, but have no idea how much you should tip? No problem, you can apply a general rule for most services that is 10-15% of the total moving cost for everyone or 5-10% for each mover if it's 2-3 people. It is a good idea to pay tips personally to each mover, so you can be sure the funds go directly to the person you wish to thank.
How to find a moving company?
Finding a moving services London Ontario
is a matter of seconds using an online search, but it is crucial to find a trustworthy company that can offer exceptional customer service and will not leave you unsatisfied. It is a good idea to do not only google search but also read reviews on google maps, visit the company's website, visit their social media pages, and other activities that would build trust in your eyes. The number of years in business and the number of customers served for a certain period are also important factors; however, in some cases, a newer company can provide similar services for a lower price.
How to get a moving quote?
Most trustworthy movers london ontario
have their moving request form on their website that you need to fill, and your message will be sent to a price estimator who will contact you back using most probably an email or by phone. Also, you can directly write down an email with your request or send a text message if a moving company mentions that. The written ways of communication are intended for sending documentation such as invoices and items lists, but the quickest way to receive a quote is to call a moving company and complete the agreement using follow up emails.
How can I save money on moving?
Even if you are on a tight budget, some useful tricks will help you save some cash on moving. First, do thorough research and find a low-cost moving company, but make sure you can trust it, and it has a website, good reviews, and photos. Second, do most simple but time-consuming work by yourself; thus, pack everything on your own, disassemble furniture for moving if you can, and also reduce the amount of stuff that needs to be move. Third, discuss with a moving services company all factors, such as booking in advance, availability of student or senior deals, your level of preparation for the move, that can reduce the price for you. Also, please read our
Top 10 Tips for Moving on a Budget
article if you wish to know more about this topic.
How can I save time on moving?
Time is always a limited resource, so making moving preparations and the process itself faster is very important. Also, saving time for movers, whose final invoice is directly based on the number of hours worked for your move, will save a considerable amount of cash in pocket. Some of the procedures are packing belongings by yourself, preparing all small items for moving in advance, discarding or donating all unnecessary stuff, disassembling oversized furniture if you can do it or notify movers supply in advance with what needs to be done, and booking an elevator if you live in an apartment. Please read our Top 10 Tips for Saving Time on Moving if you wish to know more about this topic.
How to prepare a refrigerator for moving?
Moving this valuable appliance requires some preparation, but if it is properly done, the fridge moving is not as hard as it seems to be. First, remove all food out of it, defrost, and clean it. Second, measure if it is big enough to fit on its way in your home or not. Third, disconnect it and remove doors according to the user manual. Fourth, wrap it with a cardboard or soft blanket so it does not get scratched. Because an average fridge weighs between 200 and 400 pounds or even more, hiring professional appliance movers and installation service providers is certainly a good plan that will save your time and effort.
How to pack stuff for moving?
The last thing you wanted after moving was complete is to realize that your favourite decorative vase was broken. To evade this and other unwanted scenarios to happen, just follow these simple tips. Prepare larger items and furniture that will be loaded first, then pack rarely used stuff in medium to large boxes, and later you can pack fragile, odd shape stuff you have, so it will be loaded at the end. Dedicate certain areas for items that you do not want to be moved, so movers suppl will easily understand what they need to do. If you wish to save some efforts for that, feel free to hire movers who will pack and move your belongings with care. Please read our
Top 10 Tips for Packing Stuff for Moving
if you wish to know more about this topic.
How to prepare furniture for moving?
If you are moving furniture by yourself or hiring London moving services company, you will need to know if this furniture fits in a doorway or any other narrow areas. Some companies can offer their measurement services and a free quote. Disassembling and removing some oversized components of your furniture are the next step for a safe move. Please remember to remove all possessions out of the drawers and shelves, so they do not add extra weight or do not get damaged during your move. The last thing but the most vital one is packing your valuable furniture with pads, moving blankets, and wrap that is key to keep it undamaged; however, be careful with glue tape that can harm the surface.
How to get rid of old furniture?
In the case when you no longer need your couch or any other furniture, you can follow some tricks that will make getting rid of it way easier. Try selling off your furniture on Kijiji, Facebook Market, or another online platform and remember to take good photos with good lighting. You can also leave your old furniture on the curbside and advertise that through the same information channels. If you can, try to deliver your furniture to certain recycling locations. Lastly, you can contact a junk disposal or a full-service company to disassemble, remove out of your home, and recycle any furniture you decided to get rid of.
Nothing can be more valuable than your dog, your cat, or any other animal, so the best way to move your pet is to take it with you in your vehicle. Also, keep your pet away from the moving process, so it does not get lost or tries to hide somewhere because is a very stressful moment for your pet when new people are at their home and also movers often keep the doors open for quicker access. Prepare food and all necessities for your pet while it is waiting for the move to be completed and bring it last to a new home with old familiar items and furniture, so the adaptation process in the new home becomes less stressful.
How to move a pool table?
A pool table can weigh 700 pounds or more and can be 7 to 9 feet, so moving it by yourself makes it a difficult task that requires some tools and supplies such as dollies, moving blankets, and tools to disassemble it as well as 3-5 people depending on moving conditions such as stairs. Measuring doorways and other chokepoints are critical to making sure all components of the table will fit where you want it to be placed. In this case, hiring movers who can move this valuable item without damaging it and surroundings will save you a lot of time and effort.
How to transfer utilities?
Notifying utility suppliers one month before your move will make the last days before this considerably less stressful because you usually will have to call to change your address in a system or decline services which can take hours waiting in a line. Your electricity, water and sewer, gas, phone, cable and internet, satellite, security system, and other utility providers have a contract that clarifies what time in advance your notice should be placed to avoid extra charges. Taking photos of final measurements, paying all overdue bills, and keeping all proof can save you money and avoid potential conflict situations. Also, if you have never used certain services before, contact new providers for your new location, so you can move in and immediately enjoy all the necessary amenities.
How to move being a student?
Many moving companies London Ontario
in especially student towns and cities offer student-specific deals, so feel free to ask moving companies if they can provide a special offer for you.Moving closer to your education institution means that you will need to select on or off-campus residence at first. Try to bring with you only some basic necessary stuff especially if you are going to live on campus. If you are going to rent a house, clarify if it is furnished or not. In the latter case, you will mainly need a bed, a desk, a chair, and a closet if one is not built-in.
Moving a hot tub is a process mostly complicated due to its size and weight of around 900 pounds. First, a hot tub needs to be disconnected and drained, so no water needs to be moved. Second, plan your route and identify all obstacles that might be on the way. Third, this procedure will require three to six people depending on the hot tub weight and complexity of the move. Fourth, moving supplies such as plywood, dollies, wood planks, and straps are needed to lift it, carry on uneven ground, and load into a truck that should ideally have a liftgate. In conclusion, moving a hot tub can be challenging, so you can dedicate this job to professionals who already have experience in this niche market.
Where to donate old stuff?
Do you have old clothes, dishes, or anything else that still can be used, but you do not wish to move it with you? Goodwill, Salvation Army, and Talize are intended for donation clothes, household goods, and small appliances. If you have non-perishable foods, consider donating to plenty of independent food banks or those located in grocery stores such as Real Canadian Superstore, Metro, Sobeys and others. Local libraries can accept books, most recycling centres will accept furniture, cardboard, plastic, glass, metal items, yard materials, and others. Another option is to make a garage sale or advertise your goods online on Kijiji or Facebook Market.
How to pack fragile items?
To move easily breakable things safe, proper packing needs to be made, all boxes and packages need to be labelled, so movers apply extra attention to those objects. The most common fragile items are plates, glasses, lamps, picture frames that should be packed with paper and bubble wrap and place into boxes. Try to find an original box or any suitable one for your electronic devices and appliances such as TVs, monitors, microwaves, kitchen appliances and wrap them with original soft polypropylene or paper. Consult your moving company if they can carry your plants because they will need to be placed into a truck at the last moment where nothing can damage them.
What are the hidden moving expenses?
You have selected a nice movers London, Ontario
that provided you with a lower quote than any others, so you decided not to pay more and go ahead with them. Be careful because some companies may have hidden fees that you would have to pay later. First are packing labour and packing materials, so you need to clarify that you are going to pack everything or not. Another thing in the list of expenses is disassembly and assembly fees that can be charged separately if not discussed. Extra charges for stairs and oversized items can be applied in your case if movers were not aware of this ahead of time. If you decide to cancel the move at the last moment, some companies can charge you for that. In conclusion, please clarify what is included in the moving quote although it is the responsibility of a moving company to gather as much information as it is needed to provide a fair price estimation.
How to define what is worth moving?
Using a simple formula is recommended in this case: answer yourself if you are going to use the item and would you pay for storing it, how much space it will take, and how much time movers will spend to move it. For example, if you have a half-broken piano, which worth in this condition is $0. Should you move it paying up to $500 in moving costs, and will you really repair it anytime in the future? Avoid moving items that you are planning to store in a basement or garage – it means that you are probably not going to use them. Do not turn your new place into an old one by hoarding things you do not need
If you hire movers supply
you do not need to help to carry furniture with them; however, some important actions should be done to simplify the moving process. Packing of your belongings need to be done before the moving day if this service is not provided by movers, so they have easy access to all your boxes and stuff. Organizing boxes and labelling them, for example, those that have fragile components, and loading them evenly will save time for movers that you will pay for. Emptying drawers and other furniture ahead of time will make carrying heavy furniture less complicated. Overall, let the movers do their job, but stay somewhere in the house, so they can approach you and clarify all moving details.
Our blog
Tips and tricks for stressless moving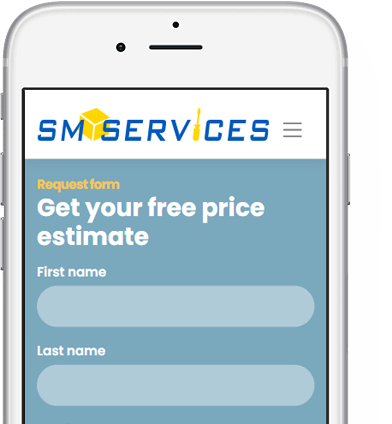 Get a moving quote
Getting a moving quote is simple